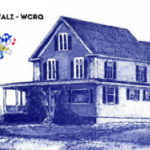 MAINE-ASYLUM SEEKERS
Maine plans to open new shelter for displaced asylum seekers
PORTLAND, Maine (AP) — The state of Maine plans to fund an emergency shelter and renovated housing units in Portland, South Portland and Brunswick. Senior Housing Adviser Greg Payne disclosed the plans as South Portland on Wednesday joined Portland in announcing it could no longer guarantee housing for asylum seekers. The goal of the shelter would be to provide housing for 280 people who'll be displaced from motel room in coming weeks with the arrival of summer tourists. Maine's largest city has struggled to house the homeless with the addition of about 350 families seeking asylum. That's on top of 500 other adults experiencing homelessness.
RASH-CAUSING MOTH
Conservationists say some Maine residents killing wrong moth
HOLLIS, Maine (AP) — Some nature advocates are concerned Maine residents are killing the wrong caterpillar as they seek to wipe out an invasive species that causes a rash with its toxic hairs. The browntail moth caterpillar is an invasive pest in Maine that can cause a rash and respiratory distress in humans. They're expected to be especially bad this year because of weather conditions. Destroying the caterpillars' nests is one way to mitigate their spread. But the Bangor Daily News reports some residents are destroying the nests of a different species, the Eastern tent caterpillar.
TRIPLE KILLING TRIAL
Triple killing trial is underway in Belfast, Maine
BELFAST, Maine (AP) — A Maine man on trial for the killings of three people is calling the victims "drug addicts" and describing the deaths as "accidents" and "self-defense." Thomas Bonfanti delivered his own opening statement Wednesday in Belfast, where the trial was moved because of pretrial publicity in Washington County. A prosecutor described a calculated plan in which three were killed and a fourth injured. The lone survivor, Regina Long, was hit three times but lay on the floor, pretending to be dead.
OBIT-FRANCIS QUINN
Francis Quinn, longtime State House reporter, dies at 70
MEDFORD, Mass. (AP) — Francis X. Quinn, a former Associated Press reporter who covered Maine politics with fairness and integrity for more than a quarter century, has died at 70. Quinn was a fixture in the state capital, where Maine lawmakers and others described him as a quiet and humble observer with a deep knowledge of state politics — and who didn't tolerate spin or lies. Gov. Janet Mills said there were "none finer, funnier or more quietly observant." Quinn died on May 17 in Medford, Massachusetts.
FEDEX CRASH
3 FedEx trucks crash into each other on Maine highway
ALFRED, Maine (AP) — Maine State Police say three FedEx delivery vehicles following single file crashed into each other. Officials said the three vehicles collided with each other when traffic slowed in front of them late Tuesday morning on busy Route 111 in Alfred. All of the vehicles were damaged, and one was pushed off the highway into a tree. Officials say one FedEx driver was transported to the hospital with non-life-threatening injuries.
UNIVERSITY CHANCELLOR
UMaine faculty, students want consequences for chancellor
AGUSTA, Maine (AP) — Faculty members and students from public universities in Maine said the resignation of an incoming administrator isn't enough to satisfy concerns about the system's leadership. Faculty at University of Maine at Augusta and two other public universities cast no-confidence votes in University of Maine System Chancellor Dannel Malloy over the hiring of Michael Laliberte to lead the Augusta school. Faculty members learned after Laliberte's hiring that Malloy did not inform a search committee that Laliberte was the subject of his own no-confidence votes at his former job. Trustees did not decide whether to renew Malloy's contract during a Monday meeting.