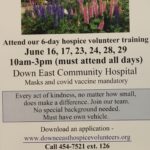 Executive Director of Volunteer Services for Downeast hospice Volunteers Barbara Barnett will join us on the street beat Tuesday May 31st.
The training is interesting, eye opening and actually fun.  Anyone who joins us will come away with life affirming tools, helping them to handle helping their hospice client, a family member, a neighbor when dealing with any grave illness.
We need both men and women
Hospice volunteers are not asked to take on a situation they may feel uncomfortable with
When the training is completed, if someone who has attended does not feel ready, they are not pressured to take on a hospice client.  I want all of our hospice volunteers to feel ready and comfortable to provide this compassionate task.
Volunteers do NOT provide any nursing care and do NOT handle medications.  The dedicated hospice nurses provide these important services and we work closely with these nurses and the whole hospice team.
– Barbara Barnett
For more information call Barbara Barnett (Executive Director of Volunteer Services) at 726-5087.
All conversations will be confidential.