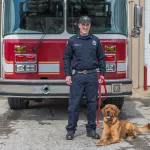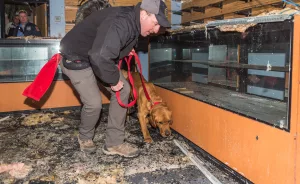 K9's to fly onboard a Forest Service Helicopter
Fire Investigator Andrew Whitney and his K9 Cheeto recently graduated from a four-week Arson Dog Training Program sponsored by State Farm. Whitney and K9 Cheeto were one of 13 teams from across the country that attended the training with Maine Specialty Dogs. Cheeto is a 2-year-old, male, yellow Lab mix who comes from Paws with a Cause in Wayland, MI. Cheeto was originally raised to be a disability dog but had too strong of a nose and work drive to be a service animal.
"The Office of State Fire Marshal would like to thank State Farm for their ongoing support," said Rich McCarthy, Maine's Fire Marshal. We are excited to have Cheeto join our fire marshal family. Cheeto joins State Farm K9 Shannon and K9 Harry who is from the Bureau of Alcohol, Tobacco, Firearms and Explosives. (ATF). With this trio our office has the ability to have a K-9 at any fire scene where they are needed, giving our investigator's another tool to track down the sources of suspicious fires."
The State Farm Arson Dog Program is the premier training program in North America for accelerant detection canine teams. It is fully funded by State Farm and is available to fire departments and law enforcement agencies across the United States. It was established in 1993 with the Maine State Police under the guidelines of the Maine Criminal Justice Academy. The Academy is renowned for its training of canines and its national reputation in law enforcement investigation.
"We feel law enforcement officials should have every tool possible to combat this costly — and sometimes deadly — crime," said Heather Paul, National Arson Dog Program Coordinator for State Farm. "These K-9s enable investigators to do their job more efficiently and effectively. The scope of arson goes beyond impacting insurance companies – it affects the personal and financial well-being of us all.  Training dogs to detect accelerants at fire scenes saves time and money in arson investigations."
The Fire Marshal's Office will introduce Whitney and K9 Cheeto at a news conference Tuesday, June 6, 2023, at 11:00 a.m. in Augusta. State Farm representatives will also be on hand to talk about the importance of the program that has placed 450 dogs in 46 states.
FMO Arson Dogs to Train with the Maine Forest Service Aviation Program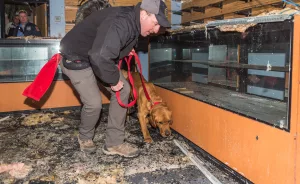 Also attending the news conference will be members of the Department of Agriculture, Conservation and Forestry's Maine Forest Service (MFS). When MFS Forest Rangers require an Arson dog for wildfire arson investigations, they team up with an FMO investigator and their K9.  
"As Andrew Whitney and his remarkable K9 partner, Cheeto, embark on their mission, we have full confidence that they will make an incredible impact," said MFS Director Patty Cormier. "Their presence and expertise will bolster our emergency response and wildfire arson investigation capabilities"
"Sharing each agency's resources to support critical investigations is a valuable tool when protecting Maine people and property," said Chief Forest Ranger Robby Gross.
The partnership has prompted the agencies to involve FMO Arson dogs in the MFS aviation program. The FMO's three Arson dogs may need to fly with the MFS if a quick response is necessary to emergency incidents and remote locations and if there is sensitivity surrounding evidence collection promptly when outdoor influences are a factor.  
News Conference
Introduction of new FMO Arson K9 Team

The FMO's Arson dogs will take part in a flight demonstration onboard a Forest Service Helicopter

Tuesday, June 6, 2023, at 11:00 a.m.

Maine Forest Service's Southern Region Headquarters at 2870 North Belfast Ave (Route 3), Augusta.