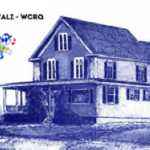 we spoke with Julie Bourgoin Executive Director of the Worthington Scholarship Foundation
the Worthington Scholarship Foundation provides scholarships to Washington County high school seniors who will attend a choice 20 Partnering Maine colleges.
The scholarships are awarded based on financial need and they are trying to get the message out that the application is open with an April 15 deadline.
they are well funded this year, poised to give away $7 million in scholarships, and it is most likely that all who apply who meet the eligibility criteria will receive the scholarship.
The criteria center on financial need (mid to low-income), high school GPA (2.2 or higher), and will attend one of their partner colleges.
the Worthington Scholarship Foundation partners with 59 high schools in Maine and 20 colleges that include all campuses of the University of Maine System, Maine community colleges, Maine Maritime Academy, Bate, Bowdoin, Colby, Husson University, and Thomas College.
their scholarship covers eight high schools in Washington County.