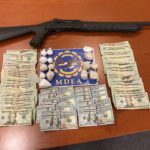 Sullivan, Maine
The Maine Drug Enforcement Agency, along with the Hancock County Sheriff's Office have arrested three men in the town of Sullivan and charged them with the most serious drug trafficking offenses after a weeks long investigation involving the importation of fentanyl and other drugs into Hancock County,
Early last month, investigators assigned to MDEA's Down East Task Force covering Hancock County, opened an investigation into the suspected trafficking of fentanyl from a home in Sullivan. MDEA was assisted extensively by the Hancock County Sheriff's Office during the investigation which included the undercover purchase of fentanyl from the home which is located on the Morancy Road.
On Monday, November 21, 2022 at approximately 8:00 pm, MDEA agents, along with assistance from the Maine State Police Tactical Team, Hancock County Sheriff's Office, Customs and Border Protection, Homeland Security Investigations, and the FBI executed a search warrant on the Morancy Road home of Christopher Smith.
Seized during the search was approximately 330 grams of suspected fentanyl, 35 grams of cocaine, $3700 in suspected drug proceeds, along with a loaded 12-gauge shotgun. The estimated street value of the drugs seized is approximately $55,000.
Arrested and charged thus far in connection with this investigation is:
Steven Maldonado Rodriguez (27) of South Lawrence, MA and Puerto Rico – Class A Aggravated Trafficking of Schedule Drugs.
Christopher Smith (41) of Sullivan, Maine – Class A Aggravated Trafficking Schedule W Drugs.
Randolph Garland (58) of Sullivan, Maine – Class A Aggravated Trafficking of Schedule W Drugs.
All subjects held with no bail.  Photographs are available at the Hancock County Jail.
All suspects are presumed innocent until proven guilty in a court of law.
If you have information about this investigation or the illegal sale of drugs in your community, you are urged to contact the Maine Drug Enforcement office closest to you or by texting MDEA to TIP411 (847411) or by calling the MDEA tip-line at 1-800-452-6457.
Shannon Moss
Public Information Officer
Maine Department of Public Safety