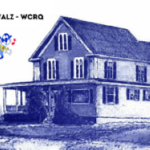 ACADIA PARK-DEATH
Boyfriend sought in death of retreat organizer at Acadia
WINTER HARBOR, Maine (AP) — Police in Maine are searching for a man in connection with the hit-and-run death in Acadia National Park of the founder of a youth retreat. The crash killed 35-year-old Nicole Mokeme on the campus of the Schoodic Institute within the park some time between Saturday night and early Sunday. The Portland Press Herald reports police said the man sought in connection with the death had been in a relationship with Mokeme. The details of how Mokeme was struck remained unclear. Police were still investigating Mokeme's death.
BIDEN-OFFSHORE WIND
Offshore wind boosted as Biden, East Coast governors team up
WASHINGTON (AP) — The White House is launching a partnership with 11 East Coast governors to boost the growing offshore wind industry, a key element of President Joe Biden's climate change plan. Biden administration officials will meet with governors and labor leaders Thursday to announce commitments to expand important parts of the offshore industry. Those parts include manufacturing facilities, ports and workforce training and development. The Democratic president has a goal of deploying enough offshore wind power by 2030 to provide electricity to 10 million homes and support 77,000 jobs. The governors are from Connecticut, Delaware, Maine, Maryland, Massachusetts, New Hampshire, New Jersey, New York, North Carolina, Pennsylvania and Rhode Island.
BATES PRESIDENT
Bates College president to step down next year
LEWISTON, Maine (AP) — The president of Bates College will step down next year after 11 years at the liberal arts institution. Clayton Spencer made her announcement in a letter to the community on Wednesday. She will depart next June. John Gillespie, chair of the Bates College Board of Trustees, called her a "transformative leader." During her time at Bates, the student population has grown more diverse and the endowment has more than doubled. Two dormitories and a new science building were constructed.
AP-US-ADA-VIOLATION-MAINE
DOJ: Maine violates ADA in care of kids with disabilities
PORTLAND, Maine (AP) — The U.S. Department of Justice says Maine is in violation of the Americans with Disabilities Act because it unnecessarily institutionalizes youths with mental health and developmental disabilities because a lack of sufficient community-based services. The Justice Department conducted its investigation after advocacy group Disability Rights Maine filed a complaint on behalf of a group of children. The Justice Department says it found many Maine children with disabilities are unable to live with family due to the state's lack of community services. The administration of Democratic Gov. Janet Mills said Wednesday that improving behavioral health services for Maine children is one of its goals.
POLICE-FATAL SHOOTING
Man killed by police was holding injured woman against will
BLUE HILL, Maine (AP) — Maine State Police say a man who was fatally shot by law enforcement officers outside a Hancock County home was holding an injured woman against her will. Officials say 27-year-old Peter Pfister, of Blue Hill, was shot early Tuesday in an armed confrontation with a deputy and two state police officers. The woman was taken to the hospital for treatment of injuries that were not considered life threatening. The officers who discharged their weapons are on paid leave during an investigation.
FUNGUS KILLING CATERPILLARS
Fungus kills browntail moth caterpillars in areas of Maine
AUGUSTA, Maine (AP) — A fungus found to kill browntail moth caterpillars has made an appearance in Maine. Researchers say that could potentially ease tension for Mainers dealing with the itchy rash, respiratory issues and other problems caused by the caterpillars. Officials predicted this year that warm weather would lead to an increase of the caterpillars. The Bangor Daily News reported Tuesday that the moths are dying off rainy parts of the state because the fungus thrives in cool, wet conditions. The Maine Forest Service says it found that some caterpillars died from fungus-related causes at a few testing sites. But outside of those areas, the effects of the caterpillars can still be felt.