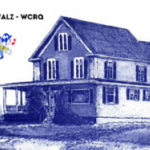 Hazardous Weather Outlook
National Weather Service Caribou ME
403 AM EST Thu Nov 25 2021
MEZ005-006-010-011-015>017-029>032-260915-
Northern Penobscot-Southeast Aroostook-Central Piscataquis-
Central Penobscot-Southern Penobscot-Interior Hancock-
Central Washington-Coastal Hancock-Coastal Washington-
Southern Piscataquis-Northern Washington-
403 AM EST Thu Nov 25 2021
This Hazardous Weather Outlook is for Central Highlands Maine,
Coastal DownEast Maine, Far Eastern Maine, Interior DownEast Maine
and Penobscot Valley Maine.
Friday through Saturday will feature low pressure tracking west to
east through across the region and strengthening to the east Friday
night and Saturday. A period of mix precipitation is likely during
the day Friday. As cold air filters southeast later Friday
afternoon/Friday night rain and mixed precipitation will change to
all snow from northwest to southeast across the region. The
potential for most significant rates will be late Friday night into
Saturday morning across East Central and Northern areas during the
intensification period of the low. This could impact return travel
from Thanksgiving celebrations. Continue to monitor the latest
forecast for potential winter headlines and potential travel
impacts.