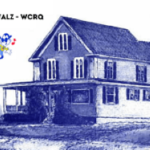 ESSENTIAL SERVICE GRANTS
Maine foundation provides $1M in food, shelter grants
LUBEC, Maine (AP) — A foundation in Maine has provided $1 million in grants for essential services such as food and shelter to dozens of groups around the state. The John T. Gorman Foundation said it increased funding to its annual Direct Services Grant Program this year because of increased need caused by the coronavirus pandemic. The grants are mostly in the $10,000 to $20,000 range. Recipients include Community Food Matters in Norway, Lubec Community Outreach Center in Lubec and Sebago Lakes Region Chamber of Commerce Charitable Trust in Windham.
BC-VIRUS OUTBREAK-NEW ENGLAND
New England states encouraging COVID vaccination
BOSTON (AP) — After an initial surge in vaccinations against COVID-19, the number of people receiving the shots in Massachusetts has been declining for nine days. The state's day for peak inoculations came April 22, three days after all adults became eligible for the shots on April 19. Vaccine providers say they're pivoting to a new phase where outreach will become the top priority, with more mobile sites popping up in hard-to-reach communities. Some operators have opened walk-in clinics where no appointments are required. Aaron Michelucci, senior director of pharmacy services at Baystate Health in Springfield, who oversees Holyoke and Greenfield sites, says "now it's a ground game."
FARM TO SCHOOL
Maine senator wants to renew Farm to School grant program
BANGOR, Maine (AP) — Maine's Republican senator is joining with colleagues to renew the Farm to School Program, which helps get local food into schools. Sen. Susan Collins said the bill "would ensure that students in Maine and across the country will continue to have access to local and healthy foods while supporting Maine farmers." Collins says the proposal is designed to raise the program's funding from $5 million to $15 million. She says the bill would provide nutritious food to children as well as help local food producers.
DRUG TAKEBACK
Drug take-back yields more than 46 tons in New England
BOSTON (AP) — The U.S. Drug Enforcement Agency says New Englanders have returned more than 46 tons of unused and unwanted drugs. Residents were encouraged to turn over expired, unused and unwanted prescription drugs, along with electronic vaping devices and cartridges, at 565 collection sites across New England. Brian Boyle, DEA special agent in charge, said those drugs have now been "taken out of harm's way across New England." The 20th National Prescription Drug Take Back Day was held on April 24.
COACHES EQUAL PAY
6 female Colby coaches say they are paid less than men
WATERVILLE, Maine (AP) — Six female coaches at Colby College have filed a complaint with the Maine Human Rights Commission alleging they are paid significantly less than their male counterparts. The complaint says the coaches were told male coaches had "higher market value." The complaint was filed in March. Colby College and the coaches issued a one-paragraph joint statement Friday saying they are "working together productively and collaboratively" through the Human Rights Commission and they are abiding by confidentiality rules. Maine Human Rights Commission Executive Director Amy Sneirson declined to say if Colby has responded to the complaint, but added that the process can take between 18 months and two years to complete.
FOOD WASTE
UMaine launches campaign to keep food out of landfills
ORONO, Maine (AP) — A center at the University of Maine is launching a campaign to try to reduce the amount of food waste that ends up in landfills in the state. The university said the Senator George J. Mitchell Center for Sustainability Solutions will undertake a statewide "education and action campaign" to increase salvage and recycling of food. The project is called Food Rescue MAINE. The university said the city of Portland will work with the Mitchell Center to measure food waste at five new food waste recycling sites. The sites opened to the public on April 2