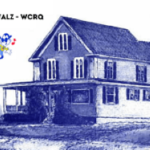 Calais – The home health services currently offered by Calais Regional Hospital will be transitioned to Community Health and Counseling Services (CHCS) in Calais. Community Health and Counseling Services will assume all patient referrals for home health services by May 28, 2021.
Hospital CEO, Steve Lail, on the change, "CHCS is a well-known, respected home health organization with deep roots in Washington County. The patients who currently use CRHs home health services and future patients will continue to have their healthcare needs met by caring professionals. The decision to transition this service was not taken lightly but it was necessary to help provide financial stability to the hospital."
CHCS is working collaboratively with Down East Community Hospital to provide continuity of care for the home care patients served by Calais Regional Hospital. Not all CRH home health employees will be integrated into CHCS, but they have openings for 2 full-time R.N.'s, 1 full-time PTA, and 1 part-time OTA. All CRH home health employees have been encouraged to apply for the open positions at CHCS and open positions at the hospital. CHCS has established an expedited hiring process to fill these positions. Their goal is to make offers for these positions by Wednesday, May 5, 2021.
"CHCS is excited to collaborate with Down East Community Hospital to preserve high quality home health services throughout Washington county. Down East Community Hospital has a demonstrated history of community partnership to meet the health care needs of Washington county residents. This collaboration exemplifies their commitment to a coordinated system of care," CHCS Executive Director, Dale Hamilton.
Press Release Julie Hixson