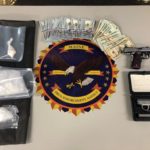 September 24, 2020
Commander Scott Pelletier 207-822-0371
The Maine Drug Enforcement Agency announces the criminal charging of two people from Biddeford for Trafficking in Cocaine.
Charged were;
Patrick Duke, 51 of Biddeford, Maine Unlawful Trafficking Schedule W Drugs, Class B
Shelly Berry, 47 of Biddeford, Maine Unlawful Trafficking Schedule W Drugs, Class B
For the past three months, agents from the MDEA York District Task Force conducted an investigation into the distribution of illegal drugs by Patrick Duke from his Biddeford residence.
On September 23, 2020 at approximately 9:00 pm, agents observed Duke traveling north on I-95 after returning to Maine from out of state. Agents requested the assistance of the Maine State Police Proactive Criminal Enforcement Team (PACE) to conduct vehicle stop of Duke's vehicle for traffic violations. It was determined that along with Dike, his roommate Shelly Berry was also in the vehicle.
During the stop a State Police K-9 alerted to the presence of illegal drugs within the vehicle. Troopers located and seized a large bag of suspected cocaine (110 grams) concealed within the vehicle's engine compartment. A test of the substance by agents tested positive for the presumptive presence of cocaine. Agents also seized $5399 in suspected drug proceeds from Duke.
Duke and Berry were charged by Criminal Summons at the scene and released with a court date of November 6, 2020 in Alfred Superior Court.
Based on the seizure and information gathered at the scene, agents drafted and were approved to execute a search warrant at Duke and Berry's, Harrison Avenue, Biddeford residence for additional evidence of drug trafficking.
As a result, agents seized an additional 652 grams of cocaine, 17.7 grams fentanyl powder and 2 handguns. A number of various diverted pharmaceuticals were also seized.
The approximate street value of the seized cocaine is $76,000 and $2,700 for the fentanyl.
Aggravated charges will be forth coming based on the evidence seized during the search warrant. Additional arrests are expected as the investigation continues.
Maine is not a source state for cocaine or fentanyl, MDEA will coordinate with all law enforcement agencies to identify, disrupt and prosecute Duke's out of state sources of supply.
If you have information about this investigation or the illegal sale of drugs in this state, you are urged to contact the MDEA office closest to you or by texting MDEA to TIP411 (847411) or calling the MDEA tip-line at 800-452-6457.