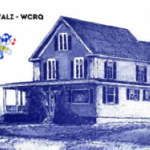 Maine: Portland eyes more remote City Hall; deaths hit 900
PORTLAND, Maine (AP) — Maine's largest city might continue conducting business remotely because of the surge in coronavirus cases in the state and elsewhere. Portland officials say the City Council might issue an order declaring a "limited emergency" so it can continue conducting remote meetings and stay in line with state law. Officials say the city had been hoping to open up City Hall to more in-person services soon, but the return of COVID-19 has interrupted that plan. A decision was expected late Monday. Also Monday, health officials said the state has recorded its 900th death from coronavirus.
Cyclist dies after colliding with pickup truck in Maine
FARMINGTON, Maine (AP) — A bicycle rider who was hit by a pickup truck in Farmington has died. Police say both cyclist Christopher Krol and the truck driver were headed west when witnesses said the cyclist cut into the truck's path Saturday afternoon. Farmington Police Chief Kenneth Charles said the 55-year-old Krol was taken to a local hospital and then airlifted to Maine Medical Center, where he died Sunday. No charges were expected.
Remote road in northern Maine set for improvements
SAINT FRANCIS, Maine (AP) — A major road through one of the most remote parts of Maine is slated for a battery of improvements. The Maine Department of Transportation said it is doing paving, culvert replacements and other work on two stretches of Route 161 in Allagash and Saint Francis. The road travels along the Saint John River in northern Aroostook County. Parts of Route 161 are located close to the border with Canada. The transportation department said the work is scheduled to be completed by the end of November.
HYDROPOWER TRANSMISSION CORRIDOR
Tree-cutting resumes after hiatus to protect endangered bats
THE FORKS, Maine (AP) — Tree-cutting is resuming on a $1 billion electric transmission project in western Maine after a two-month hiatus over a federally protected bat. The New England Clean Energy Connect is able to resume construction beginning as early as Sunday on a key part of a 145-mile power line that would be a conduit for up to 1,200 megawatts of Canadian hydropower to reach the New England power grid. Tree-cutting was put on hold in June and July to protect the newly born young of a federally protected bat. Like most bats, the northern long-eared bats have been decimated by so-called white nose syndrome in Maine.
BC-VIRUS OUTBREAK-NEW ENGLAND
Conn. urges masks indoors; young adults in Mass. lead cases
BOSTON (AP) — The number of new cases of COVID-19 in Massachusetts are skewing toward younger adults. The age group with the largest number of newly confirmed cases during the past two weeks were those aged 20-29 who had more than 1,200 new cases. Democratic lawmakers in New Hampshire are praising the U.S. Department of Justice for filing a brief Friday supporting their efforts to press Republican House Speaker Sherman Packard to require the House to provide remote access to sessions. Democratic Rhode Island Governor Dan McKee is recommending the use of masks in schools to help slow the spread of the coronavirus.
JOURNALISM SCHOLARSHIPS
16 Maine students win scholarships to pursue journalism
PORTLAND, Maine (AP) — Scholarship funds in Maine have provided $335,000 in scholarships to 16 Maine students who want to pursue careers in journalism. The money is from the Guy P. Gannett Journalism Scholarship Fund and the Agnes Freyer Gibbs Scholarship Fund of the Maine Community Foundation, and it's going to students who graduated from Maine high schools and want to study journalism at the undergraduate and graduate level. The scholarship funds said a volunteer committee chose the students based on their interest in journalism, their academic records and their financial needs.
HOSPITAL PRICES
Maine senator wants feds to end surprise medical bills
BRUNSWICK, Maine (AP) — Maine's independent senator is advocating for the federal government to follow his state's lead in making sure patients aren't subjected to surprise medical bills. Sen Angus King has made the case to Chiquita Brooks-LaSure, the administrator of the Centers for Medicare and Medicaid Services. He cited the fact Maine patients have been able to compare prices for some healthcare services since October 2015. King said the federal government should work with advocates and hospitals to eliminate surprise billing.
CAR STRIKES TWO
Two struck, killed by car outside East Waterboro restaurant
WATERBORO, Maine (AP) — A car that veered off a roadway into a parking lot outside a restaurant in East Waterboro struck and killed two individuals Saturday, according to police. Deputies responded to the Cozi Corner Café at 199 Sokokis Trail just after 9 a.m. An investigation found that a car being driven by Charles Stoddard, 64, of Waterboro veered off the road and into the restaurant's parking area where patrons were waiting for their turn to enter the establishment. Two people — 45-year-old Waterboro resident Mark Schepis and 12-year-old Waterboro resident Luke Stephenson — were struck and killed,