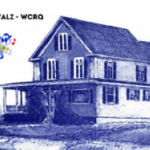 Blueberry Festival
August 21st
Jonesboro Grange, Jonesboro, Maine
9am to 2pm
craft fair space available! Email Jonesborogrange357@gmail.com
Craft Fair
Baking with Blueberries Contest
Blueberry FUN Run ?
Blueberry Pancake Breakfast
Lunch specials
Blueberry Pie Eating Contest
Blueberry Balloon Toss
Pie & paint (enjoy Blueberry pie and paint a Blueberry picture
& more to come!
Local Blueberry queens will be at the festival.