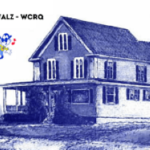 ONLINE VOTER REGISTRATION
Maine eyes creation of online voter registration
AUGUSTA, Maine (AP) — Maine lawmakers are considering a proposal to allow eligible residents to register to vote online. The proposal by Democratic Rep. Teresa Pierce of Falmouth would implement online voter registration between now and 2023. Pierce introduced the proposal on Monday. Pierce's proposal would mean registration would be available via a secure online registration portal. Supporters of the measure said 40 states and Washington, D.C. have implemented online voter registration systems.
Navy secretary paying a visit to facilities in Maine
BATH, Maine (AP) — Navy Secretary Thomas Harker is touring a private shipbuilder and a public submarine overhaul facility on Tuesday in Maine. Sens. Susan Collins and Angus King and Rep. Chellie Pingree of Maine are joining the secretary who'll participate in the keel-laying ceremony at
the Bath Iron Works for the future USS Harvey Barnum Jr., an Arleigh Burke-class destroyer.
Harker will also meet with leaders and employees and tour the facilities before heading to Portsmouth Naval Shipyard to do the same.
Bill to require election audits receives committee support
AUGUSTA, Maine (AP) — A bill that would require Maine to conduct post-election audits has been endorsed by a legislative committee. The bill, sponsored by Democratic Rep. Nicole Grohoski, of Ellsworth, follows a 2020 election cycle that saw record turnout along with baseless claims of election fraud by former President Donald Trump. Secretary of State Shenna Bellows supports the bill. She said the bill is "about promoting ongoing election integrity and public confidence in our elections." It won the backing of the Veterans and Legal Affairs Committee on Monday.
CMP seeks rate increase for response to storms, pandemic
AUGUSTA, Maine (AP) — Central Maine Power wants regulators to boost rates by nearly $3 a month on average to recover costs from five major storms in 2020 and the pandemic. The company asked the Maine Public Utilities Commission to boost rates by $26.5 million to cover costs. CMP's requested increase for the distribution portion of the people's monthly bills is nearly 9.6%, or a little less than $3 per month for the average bill. If approved, bills would go up July 1.
Maine: Unemployment slightly up; Seafood industry to get aid
AUGUSTA, Maine (AP) — New unemployment claims rose slightly in Maine last week as the coronavirus pandemic continued to complicate the jobs picture in the state and around the country. The Maine Department of Labor reported 1,600 initial claims for state unemployment insurance for the week that ended March 27. That was an increase from 1,400 claims the previous week. The agency also reported 400 initial claims for federal Pandemic Unemployment Assistance during the same week. That number increased from 300 the previous week. Also Friday, Maine seafood businesses were slated to get more than $17 million in federal pandemic aid.
As states expand vaccines, prisoners still lack access
Vaccinating most Americans is plenty tough — and it's worse if you're in prison. Roughly half the country has opened up coronavirus vaccine eligibility beyond initial restrictions, vastly expanding the ability for most people to get a shot in the arm. But inside prisons, it's a different story. Prisoners are not free to seek out vaccines and still on the whole lack access. Data collected by The Marshall Project and The Associated Press show fewer than 20% of state and federal prisoners have been vaccinated. In some states, prisoners and advocates have resorted to lawsuits to get access.