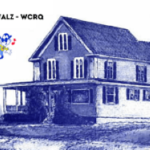 Thousands still without power after powerful winds
PORTLAND, Maine (AP) — More than 20,000 homes and businesses remain without electricity in Maine and New Hampshire following a massive windstorm. Wind gusts reaching in excess of 70 mph whipped trees, rattled windows and hampered power restoration efforts on Tuesday. By this  morning, more than 15,000 customers in Maine and more than 7,000 customers in New Hampshire remained without electricity. In New Hampshire, the winds blew down a tent at a COVID-19 vaccination site and caused a scary moment when power lines fell on school bus. In Maine, multiple pileups were blamed on whiteout conditions caused by the wind.
VIRUS OUTBREAK-MAINE
Maine to start vaccinating people 60 and older
PORTLAND, Maine (AP) — Maine is set to expand eligibility for the coronavirus vaccine to people who are 60 and older. The change goes into effect on Wednesday. State officials announced in late February that Maine will use an age-based eligibility system to deliver the vaccines. Maine has been focusing on people who are older than 70 and health care workers. New tiers of people who are eligible for the vaccine will follow. Officials say eligibility will expand to people 50 and older in April, 40 and older in May and 30 and older in June. Younger people will be eligible in July and beyond.
DA CANDIDATE-ARREST
Former Maine DA candidate arrested in Florida on sex charges
ORLANDO, Fla. (AP) — A former candidate for a district attorney in Maine was arrested in Florida on sexual misconduct charges. The Bangor Daily News reports Orlando police arrested Seth Carey of Rumford on Tuesday. The paper reports he has been charged with attempted gross sexual assault, attempted aggravated sex trafficking and other charges. The charges against Carey followed a three-year investigation. He ran for district attorney of three Maine counties as a Republican.