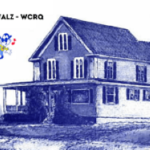 PORTLAND, Maine (AP) — Republican Sen. Susan Collins is suggesting the state party learn from her success instead of attacking her for voting to convict former President Donald Trump for inciting an insurrection. Members of the Maine GOP's executive committee wrote a letter to her to "condemn in the strongest possible terms" her vote. Collins, one of seven Republicans to vote to convict Trump, wrote in response that she upheld her constitutional duty and noted that she was reelected at a time when her party has struggled in Maine. She said now is time to focus on winning elections in a state where Democrats control the Legislature and governorship.
Maine Clam Fest Canceled
YARMOUTH, Maine (AP) — The coronavirus pandemic has forced the cancellation of Maine's annual celebration of clams for the second straight year. The Yarmouth Clam Festival dates to the 1960s and is a beloved tradition in the southern Maine town. It's a celebration of seafood and summer that typically includes races, rides, music, a shucking contest and all things bivalve. Organizers of the festival said Tuesday they met with town officials and others and decided the safe approach was to cancel the event. Also, a resolution in Androscoggin County that opposed state mask mandates has failed.
County Anti-Mask Resolution Fails
The Androscoggin County Commission has turned down a resolution proposed by a commissioner who opposes mask mandates.
Commissioner Isaiah Lary, a Republican, proposed the resolution to refuse statewide mask orders applied by Democratic Gov. Janet Mills.
In the end, only Lary voted for the resolution, which failed 6-1 on Wednesday.
Lary believes the Mills executive order is unconstitutional, the Sun Journal
Mills to deliver a virtual 'state of the budget' address
AUGUSTA, Maine (AP) — Maine Gov. Janet Mills says she's going to deliver a virtual "state of the budget" address that'll include a salute to residents and businesses who're fighting to slow the pandemic. Mill's remarks will be shown on TV on Maine Public as well as streamed online on Feb. 23 in lieu of a traditional address to a joint session of the Legislature. Mills said she'll use the speech to honor those who've lost their lives during the pandemic, discuss the impact of the health crisis on the state, and share her vision for economic recovery.
SCENIC BYWAYS
3 new national scenic byways designated in Maine
STACYVILLE, Maine (AP) — The federal government has designated three new National Scenic Byways in Maine in an attempt to draw tourism dollars. The U.S.'s "America's Byways" program has designated dozens of roads over the years to try to encourage visitors and economic activity. Republican Sen. Susan Collins said Wednesday the new Maine designations include Katahdin Woods and Waters Scenic Byway in northern Maine, St. John Valley Cultural/Fish River Scenic Byway in northeastern Maine and Bold Coast Scenic Byway in Down East Maine. Collins says the designations "will help to spur much-needed economic activity and encourage more people to experience the beauty throughout our state."