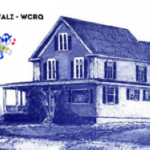 BOSTON (AP) — The missing men who were on a commercial fishing boat that sank off Massachusetts this week were all Maine fishermen.
The Coast Guard said Tuesday it has called off the search for the crew of the Portland-based Emmy Rose that sank early Monday morning when it was en route to Gloucester, Massachusetts.
The Sustainable Harvest Sector, a group of 100 fishing vessel owners and operators, identified the men as Robert Blethen; Jeff Matthews;
Michael Porpa and Ethan Ward.
The sector says in a statement that it will release information about memorial services for the fishermen when they are available.