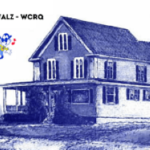 With more than 70 per cent of its fleet still grounded as a result of the COVID-19 pandemic, WestJet says it is suspending operations to four cities in Atlantic Canada and reducing service to others in the region.
As of November 2nd, routes to Sydney, Nova Scotia, Charlottetown, and the New Brunswick cities of Fredericton and Moncton are being halted, while service to Halifax and St. John's, Newfoundland is being scaled back.
The cuts remove nearly 80 per cent of WestJet's seat capacity from the Atlantic region.