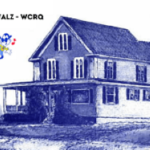 Hazardous Weather Outlook
National Weather Service Caribou ME
332 AM EDT Tue Jul 28 2020
This Hazardous Weather Outlook is for Central Highlands Maine,
Coastal DownEast Maine, Far Eastern Maine, Far Northern Maine,
Interior DownEast Maine, North Woods Maine and Penobscot Valley
Maine.
A cold front will cross the region this afternoon and evening.
Scattered thunderstorms are expected, and a few of the storms may
turn strong to locally severe. Gusty wind and locally damaging wind
will be possible along with torrential downpours.