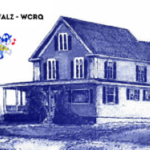 Healthy Acadia's DownEast Teen Leadership Camp (DETLC) is celebrating its 20th year with a modified program adapted to follow CDC and State of
Maine guidelines currently in place to help slow the spread of COVID-19.
Traditionally offered as a five-day residential summer program held at the University of Maine at Machias, DownEast Teen Leadership Camp challenges and empowers teens to make healthy choices and positively impact their lives and those in their communities.
The Camp offers a safe and fun environment for teens to be themselves, form long-lasting friendships, and build their leadership skills.
Generous support from community members, local businesses, and grantors will allow Healthy Acadia to offer Camp tuition-free this summer to ensure that all interested teens may attend.
DownEast Teen Leadership Camp 2020 is scheduled for the week of July 27-31, and will be offered as five, one-day sessions, each at a different location, so that youth from around Washington County may attend the session closest to their community.
Camp staff are busy planning each fun-filled, day-long retreat – teens who attend will enjoy healthy snacks, games, inspiring presentations, and interactive workshops.
On Friday, July 31, the final day of Camp 2020, we will join via Zoom with an interactive workshop and a special camp closing. Day-long Camp sessions will be held during the week of July 27-31, 2020 at the following outside locations:
Monday, July 27, 2020, Spednic Club Field in Baileyville;
Tuesday, July 28, 2020, Cobscook Bay State Park, Day Use Area in Edmunds;
Wednesday, July 29, 2020, Middle River Park in Machias;
Thursday, July 30, 2020, Sandy River Beach in Jonesport;
Friday, July 31, 2020, at Cherryfield Academy.
During this time of COVID-19, Healthy Acadia's DownEast Teen Leadership Camp strives to create a safe, welcoming environment for staff and
campers. To ensure this, they will provide masks for campers, and will have a nurse on staff to conduct a morning health screening.
Healthy Acadia will limit the number of participants in each session and practice safe hygiene practices and physical distancing. These safety measures are aligned with the Maine State COVID-19 Summer Day Camp Guidelines.
The Camp will run from 9 a.m. to 3 p.m. Camp will conclude with all participants, family, and friends to join together virtually for a celebration of Downeast Teen Leadership Camp's 20th Year.
Washington County teens entering grades 7-9 this fall are invited to attend camp in their respected area for the day.
Register online here.  https://docs.google.com/forms/d/e/1FAIpQLSfU3873dMKYynfe7SHDseoJl5yrGRDZaZBRWMfYEi2j0Wg8kQ/viewform
Space is limited, so register today! For more information contact Sara McConnell at (207) 255-3741 or by email at sara@healthyacadia.org.